Posts for tag: x-rays
By Steven D. Dunning DDS
September 06, 2015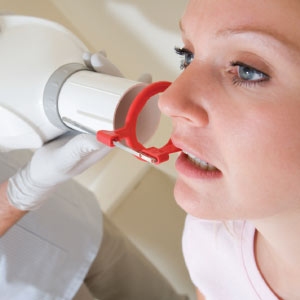 Radiographic (x-ray) images are an indispensible diagnostic tool in dentistry. One of the most routine and useful types of x-rays dentists take is the so-called bitewing. Here are some things you may want to know about this common diagnostic procedure.
What are bitewing x-rays?
Bitewings reveal the presence and extent of decay in the back teeth, specifically in areas where adjacent teeth touch each other. Unlike other areas of the teeth, these contacting surfaces between adjacent teeth can't be examined visually. Bitewings can also show areas of bone loss around teeth — a sign of periodontal disease; however, they are not taken for that purpose because bitewings will not show the complete root surface that is surrounded by bone.
Why are they called that?
The name "bitewing" refers to how the film — or sensor, in the case of a digital x-ray — is positioned in the mouth: The patient bites down on a little tab or wing that holds the apparatus in place.
How often do I need them?
This is determined on a case-by-case basis, with the goal of not exposing you to any more radiation than necessary — even the minimal amount found in a series of bitewing x-rays. Your individual susceptibility to caries (tooth decay) and personal dental history will play a major role in determining how frequently you need radiographic examination — and, for that matter, how often you need to come in for routine cleanings and exams.
Are they safe?
The safety of bitewing x-rays is best illustrated with a comparison to the regular daily radiation exposure we get every day from environmental sources, which is about 0.01 millisieverts — the unit of measure we use for radiation. A series of 4 bitewing x-rays exposes you to 0.004 millisieverts of radiation — less than half of the daily exposure. Undetected tooth decay, which can spread quickly through the softer inner layers of teeth, is considered much more dangerous!
If a bitewing x-ray shows that there is tooth decay, what happens next?
If the cavity is very small, we may be able to treat it during the same appointment. If not, we will make a separate appointment to make sure it is taken care of promptly. The sooner tooth decay is treated, the better!
What if I have more questions?
Contact our office, or schedule an appointment for a consultation.
By Steven D. Dunning DDS
December 14, 2012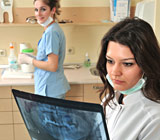 Because our main goal is to help you maintain optimal oral health, we use the latest proven technologies, techniques, and treatments to ensure we achieve them. One tool, radiographs or x-ray pictures, has been around for a long time with an inordinate amount of scientific research backing up both its safety and value. Here's a brief summary of why.
X-rays are a form of electromagnetic radiation just like natural daylight, except that they can easily penetrate soft bodily tissues, such as skin and muscles, without causing any harm if used properly. And as you may have guessed, we use them to examine what we can't see with the naked eye. For example, they enable us to see inside tooth structure, bones, and joints of the jaws. This ability makes x-rays a critical tool that we rely upon to monitor your oral health.
How often you need x-rays really depends upon your individual health needs and often is different from family member to family member given their age and oral health. During adolescence, we may need to take x-rays more often, so we can closely monitor the development of the teeth and jaw to check for normal growth and abnormalities, which can be corrected with early diagnosis. We may also need to use x-rays to diagnose trauma if you or any family member has experienced injury or disease. This will enable us to ensure the correct treatment is given and, in fact, is working and that there are no other related concerns.
Today's ultra-sensitive technology uses extremely low dosage x-rays and ensures early diagnosis and monitoring of your oral and dental health in safety and with confidence.
Learn more about the safety of x-rays by reading the Dear Doctor magazine article "X-ray Frequency And Safety." If you need to schedule an appointment, contact us today.