Posts for tag: orthodontic treatment
By Steven D. Dunning DDS
September 19, 2018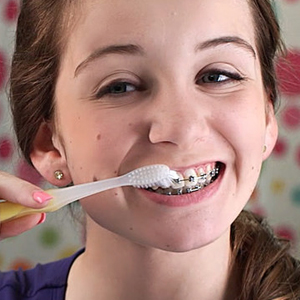 While braces are a tried and true method for achieving a more attractive smile, they may also give rise to problems with dental disease. This is because their hardware — the brackets and bands that serve as tracks for the tensioning wires — make it more difficult to access the tooth and gum surfaces to clean away plaque. This thin film of food remnant may then become a haven for bacteria that cause gum disease or tooth decay.
One of the more common conditions to occur while wearing braces is gingivitis. This is an initial inflammation of the gum tissues caused by bacterial plaque that hasn't been removed by brushing or flossing. As the inflammation grows unchecked, the infection could advance deeper into the tissues to become a more serious form of gum disease that threatens the survival of affected teeth.
Difficult as it may be for those wearing braces, the best way to avoid gingivitis is through more thorough oral hygiene practices. Fortunately, there are many hygiene products that can help you get around many of the access difficulties posed by braces. Smaller toothbrushes known as interproximal brushes and floss threaders, small aids that thread dental floss under braces wires, can access the spaces between teeth more readily than conventional brushes or floss. Water flossers (which use water under pressure to remove plaque between teeth) and motorized toothbrushes can further increase efficiency. We can also reduce bacterial growth in the mouth if need be with prescription-strength antibacterial mouthrinses.
If, however, gingivitis or gum overgrowth (another common occurrence during orthodontic treatment) continues to be a problem, we may need to take other actions including surgery. In extreme cases, the braces may need to be removed to adequately treat the gums and allow them time to heal before proceeding with orthodontics.
Extra care with daily hygiene and regular dental checkups and cleanings in addition to your orthodontic visits will help keep gum problems at bay while you're wearing braces. Taking this extra care will stop or minimize the effect of disease as you continue on to the ultimate goal of your orthodontic treatment — a more beautiful smile.
If you would like more information on dental care during orthodontic treatment, please contact us or schedule an appointment for a consultation.
By Steven D. Dunning DDS
June 21, 2017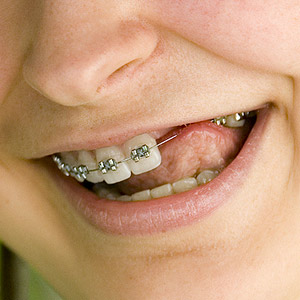 "To gain something, sometimes you have to give up something else."
No, that isn't the latest viral meme on the Internet. It's actually a practical consideration that could arise in orthodontics.
In this case, the "something" to gain is a straighter, more attractive smile; the "something" you may have to part with is a few teeth. This may be necessary if there are too many teeth on a dental arch for its capacity, a situation called crowding. A lack of space is the main reason teeth come in misaligned.
Before we can correct this, we'll need to free up space to allow for tooth movement by removing one or more of the existing teeth. The ideal candidates are those that are near to the teeth we wish to move but not highly visible. The first bicuspids are the most frequent choices for removal: they're located behind the cuspids or eyeteeth (the pointed teeth right under the eyes).
Ideally, we'll remove the target teeth some time before we apply braces to give the gums a chance to heal. At the same time we want to preserve the bone that once supported the teeth we've extracted. This is because when we chew the forces generated by the teeth stimulates bone replacement growth. When a tooth is no longer there the supporting bone doesn't receive this stimulation and may ultimately reduce in volume.
We may try to prevent this by placing a bone graft in the empty socket immediately after removing the tooth. The graft serves as a scaffold to encourage new bone to grow. Hopefully when we're ready to apply braces, the bone will be strong and healthy to handle the movement of the teeth.
As the teeth move under the influence of braces, they'll begin to fill up the space created by tooth removal. Once it's completed, the extracted teeth won't be missed — the other teeth now straightened will completely fill out the smile.
The different steps in this process must be carefully planned and executed precisely, and it will take months or even years to complete. In the end, though, this complicated bite problem can be corrected and replaced with an attractive, straight smile.
If you would like more information on correcting a poor bite, please contact us or schedule an appointment for a consultation. You can also learn more about this topic by reading the Dear Doctor magazine article "Tooth Removal for Orthodontic Reasons."