Posts for tag: mouthguards
By Steven D. Dunning DDS
November 19, 2014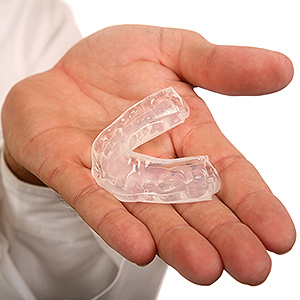 Athletes in contact sports are at significant risk for traumatic injury to their teeth and mouth. It's estimated 600,000 emergency room visits each year involve a sports-related dental injury.
Athletic mouthguards have become the premier safeguard against sports-related oral injuries. First worn by professional boxers in the 1920s, mouthguards are now required for use by various sports associations and leagues — from amateur youth to professional — for a number of sports. The National Collegiate Athletic Association (NCAA), for example, requires their use during play for hockey, lacrosse, field hockey and football. The American Dental Association recommends mouthguards for 29 sports or exercise activities.
But do mouthguards actually prevent injury? To answer that question in a scientific manner, the Journal of Sports Medicine published an evidence-based report in 2007 on mouthguard effectiveness for preventing or reducing the severity of oral-facial injuries and concussions. While the report objectively analyzed many of the problems and issues associated with mouthguards (like materials, design and durability), it concluded the risk of an oral-facial injury was nearly two times greater without the wearing of a mouthguard.
That being said, most dentists and other professionals in sports safety would advise not all mouthguards are alike. The stock, "off the shelf" mouthguard found in many retail stores with limited size offerings is the least expensive, but also least protective, of mouthguard types. Mouth-formed or "boil-and-bite" protectors, which are softened in boiling water and then bit down on by the player to form the fit, are better than the stock version — however, they often don't cover all of the player's back teeth.
The best option is a custom-designed guard made by a dentist for the individual patient. Although relatively expensive (costs range in the hundreds, compared with $25 or less for a stock guard), they provide the highest recognized level of mouth protection.
The bottom line: a mouthguard is a must-wear part of any uniform for any sport that involves contact or high velocity objects of play. If you or a family member is a contact sport athlete, it's essential you protect your teeth and mouth with a custom-fit, high quality mouthguard.
If you would like more information on mouthguards, please contact us or schedule an appointment for a consultation. You can also learn more about this topic by reading the Dear Doctor magazine article "Athletic Mouthguards."
By Steven D. Dunning DDS
October 22, 2012
Just as you would expect, we highly recommend the use of protective mouthguards to anyone participating in contact sports or rigorous physical exercise. The primary reasons we feel this way are substantiated by evidence-based research and experience within our practice. If you don't think mouthguards are helpful, here are some facts you should know:
Research conducted by the American Dental Association (ADA) found that individuals are 60 times more likely to damage their teeth when not wearing a mouthguard while engaged in contact sports or rigorous physical exercise. This shocking fact alone illustrates the importance of protective mouthguards.
A study reported by the American Academy of General Dentistry (AAGD) found that mouthguards prevent more than 200,000 injuries to the mouth and/or teeth each year.
Sports-related injuries often end-up in the emergency room; however, the US Centers for Disease Control (CDC) reports that more than 600,000 of these visits involve injury or damage to the teeth and mouth.
In addition to the trauma of having a tooth (or teeth) knocked out, individuals who have suffered from this type of injury may end up spending $10,000 to $20,000 per tooth over a lifetime for teeth that are not properly preserved and replanted. This staggering statistic is from the National Youth Sports Foundation for Safety.
While protective mouthguards were first used in the sport of boxing during the 1920s, the ADA now recommends their use in 29 (and growing) different high contact sports and activities. Some of these include acrobatics, baseball, basketball, bicycling, field hockey, football, handball, ice hockey, lacrosse, martial arts, skateboarding, skiing, soccer, softball, volleyball and wrestling.
It used to be that only males were considered when it came to needing mouthguards. However, recent studies have revealed that the growing interest and participation of females in these same sports and activities makes it just as important for them to protect their teeth.
To learn more about the importance of mouthguards, continue reading the Dear Doctor magazine article "Athletic Mouthguards." You can also contact us today to schedule an appointment or to discuss your questions about protecting your mouth and teeth. And if you have already suffered from a dental injury, let us evaluate the damage and work with you to restore the health and beauty of your teeth.
By Steven D. Dunning DDS
February 08, 2012
When involved in high impact sports or vigorous activities, it is important to protect your mouth and teeth. This statement is backed by the fact that there are over 600,000 sports-related dental injuries treated in emergency rooms across the US each year according to the US Centers for Disease Control (CDC).
In addition to absorbing and distributing the forces that impact the mouth, teeth, face and jaws an athlete receives while participating in sports such as baseball, football, basketball, hockey (ice and field), skateboarding and wrestling, the American Dental Association (ADA), also recommends the use of custom mouthguards for other activities such as acrobatics, bicycling, handball, racquetball, skiing, and even weightlifting.
These facts make two things clear: (1) it is vital that you obtain a professionally made mouthguard that you wear during these types of activities and (2) that you also understand how this mouthguard protects you. Below are just a few ways.
Lacerations. A custom-fit, professionally made mouthguard covers the sharp surfaces of the teeth to protect the soft tissues of the cheeks, lips, gums and tongue from lacerations that can occur from a blow or sudden jolt.
Mouth Impact. Just as a mouthguard protects against soft tissue lacerations, it can also help prevent injuries to the jaws and teeth. This includes but is not limited to chipped teeth, fractured teeth, broken teeth and teeth that are partially or fully knocked out of their natural position.
TMJ (jaw joint) Trauma. Wearing a properly fitted mouthguard can reduce the potential for jaw displacement and joint fractures by cushioning the jaws against damage from an impact.
Direct Jaw Impact. Anytime a person receives a direct impact to his/her jaw, having a mouthguard in place may help prevent more serious injuries to teeth and jaws. This is especially important for anyone diagnosed with TMJ.
Jaw Fracture. A custom-fit, professionally made mouthguard both absorbs and distributes impact forces so that jaws are protected. And it is this reduction in force that can help prevent the jaws from fractures.
Under Chin Impact. Receiving a blow under the chin can obviously damage teeth; however, it can also cause damage to the jaws as well as inflame or cause TMJ issues.
You can learn more about mouthguards by continuing to read the Dear Doctor magazine article "Athletic Mouthguards." Or you can contact us today to schedule an appointment.