Posts for tag: crowns
By Steven D. Dunning DDS
February 01, 2016
While dental implants have become the most popular restoration among both dentists and patients, it's primarily a tooth replacement — either for a missing tooth or a tooth beyond repair that must be extracted. But what if your tooth is still viable beneath its unattractive exterior? From an oral health standpoint, it's usually wise to preserve it.
Even so, you still have options for making a tooth that's spoiling your smile more attractive. One of the most effective solutions happens to be one of the oldest in dentistry: a crown. In effect, a crown is a life-like replica made of metal or dental porcelain that's bonded over a tooth. And with today's advanced materials and methods a crown can not only enhance the appearance of the tooth it covers, it can also be made to blend with the color and symmetry of adjacent teeth.
Here are a few dental situations where a crown could provide both protection for a tooth and a more attractive appearance.
Chipped, Damaged or Abnormally Developed Teeth. Teeth often take the brunt of mouth injuries, resulting in chips or even fractures. Also, teeth sometimes don't erupt fully or develop a normal shape. A crown can effectively cover these missing or abnormal parts of a tooth and restore a more natural appearance.
Following Root Canal Treatment. Trauma or deep decay can damage the interior of a tooth - the pulp and root canals - and endanger its survival. A root canal treatment cleans out and repairs these areas, filling them with a special filling to prevent further infection. A crown is usually necessary to both protect the tooth and restore its appearance.
Discoloration. There's a difference between outward staining of the enamel, which can usually be brightened with whitening solutions, and staining deep within the tooth from various causes. While there are techniques to bleach "intrinsic" staining, a crown provides another option for covering a heavily discolored tooth for a more attractive appearance.
Excessive Wear. We all experience some teeth wearing as we age; but grinding or clenching habits can accelerate that wear and shorten teeth, resulting in a prematurely aged look. Crowns restore worn teeth to a more normal length that can take "years" off your smile.
If you would like more information on crown restorations, please contact us or schedule an appointment for a consultation. You can also learn more about this topic by reading the Dear Doctor magazine article "Crowns & Bridgework."
By Steven D. Dunning DDS
January 31, 2012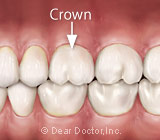 Dental crowns are excellent tools that we use to restore functionality, color and/or beauty to teeth and your smile. And while many people may have heard of them, often times there are many questions surrounding the process, costs and their maintenance. This is why we have put together this list of some of the questions we are commonly asked on this subject. Our goal is to provide you with straightforward answers so that you have a clearer understanding of the treatment and are comfortable making the decision to go forward with these excellent tooth restorations should they ever be required.
What Is A Crown?
A dental crown is a tooth-shaped "cap" or cover that a dentist places over a tooth that is badly damaged from trauma or decay in order to restore its color, strength, size and functionality. They are also used for cosmetic reasons to improve discolored or misshapen teeth.
Why Can The Cost Of Crowns Vary?
The reason the cost of a crown can vary greatly, even from dentist to dentist is quite simple. The most beautiful crowns require the artistry and years of experience of a team of dental professionals; your dentist and the laboratory technicians that handcraft crowns. To meet higher expectations of some individuals requires more experience, artistry and skill. And great art just tends to cost more. A customized temporary crown may even be used as a preview to see what a final crown will look like. Another critical factor is the choice of materials used. For example, while all porcelain crowns are made from high-quality ceramic (glass) material, they are not equal. It is therefore more expensive in terms of time, skill and expertise to produce the most natural looking results.
How Long Will A Crown Last?
Most dentists expect a crown to last at least 7-10 years with normal wear and proper maintenance. However, depending on the materials used and location of the tooth, they can last upwards of 50 years or more. For example, a gold crown has the longest lifespan because gold is such a durable material that has little to no negative impact on surrounding teeth. On the other hand, porcelain produces a completely natural look but can cause wear to adjacent teeth.
What Materials Are Most Often Used For Crowns?
The three most common materials used to make crowns are as follows:
Gold
Porcelain-Fused-to Metal (PFM)
All porcelain
To learn more on this topic, read the Dear Doctor article, "Porcelain Crowns & Veneers." You can also contact us to discuss your questions or to schedule a consultation.