Posts for tag: bonding
By Steven D. Dunning DDS
January 25, 2017
You have a winning smile except for one small flaw — one of your front teeth is chipped. In functional terms the defect is insignificant: your tooth is healthy and can still do its job. But with regard to your smile that chip is like a smudge on a masterpiece painting: it stands out — and not in a good way.
The good news is you have options to repair the chip and vastly improve your appearance. One option is to bond a custom porcelain veneer to the outside of the tooth to cover the chip. But that would also mean removing a slight bit of tooth enamel so the veneer won't appear too bulky. Although not as much as with a crown, the alteration still permanently affects the tooth — it will always require a restoration of some kind.
There's another choice that doesn't involve removing any of your enamel: composite resin. This treatment is a mixture of materials with a glass-like binder in liquid form that we apply to a tooth in successive coats. As we build up the layers we can match the tooth's shape, texture and various shades of its natural color. We're able to fill in the defect and make the tooth appear as natural as possible.
Unlike porcelain restorations, composite resins don't require a dental lab or a period of weeks to prepare. We can transform your simile in our office in as little as one visit.
Composite resin isn't the answer for every tooth defect. Teeth that have become worn, fractured or have undergone a root canal treatment are best treated with a porcelain restoration such as a veneer or crown. But where the defect is relatively minor, composite resin may be the answer.
To learn if you can benefit from a composite resin restoration, you'll need to undergo a dental exam. If we determine you're a candidate, we can use this state-of-the-art dental material to make your teeth look flawless.
If you would like more information on composite resins, please contact us or schedule an appointment for a consultation. You can also learn more about this topic by reading the Dear Doctor magazine article "Artistic Repair of Front Teeth with Composite Resin."
By Steven D. Dunning DDS
April 04, 2012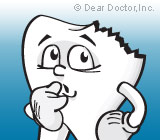 What is composite resin bonding?
This term refers to a kind of tooth-colored material that is a mixture of a plastic resin and a glass filler. The glass gives the mixture, or composite, strength and translucency that is similar to a natural tooth. The composite is bonded to the tooth by slightly abrading or roughening the tooth so that the resin fills in small cuts in the tooth surface and bonds with it. The end result functions and looks like part of the original tooth.
What is bonding used for?
This technique is a good way to restore chipped or stained teeth or to change a tooth's shape or color. It can also be used to restore parts of a tooth near the gum line where the gums have receded and left the root partially exposed.
What are the advantages of bonding?
Composite resin tooth restorations have several advantages.
They take only a single dental visit because they are done right in the dental chair rather than having to be sent to a dental lab for preparation.
They are less expensive than many other dental restorations.
They leave most of the original tooth intact since little tooth preparation or drilling has to be done in order to make the composite material bond to the tooth.
They can be made in a wide range of colors and can be matched well with the teeth around them.
Because little of the original tooth has to be removed, they are a good choice for teens, whose dental arches (upper and lower jaws) are still developing.
What are the disadvantages of bonding?
The composite resin material is not as strong as the original tooth material, so the bonded restorations may not last over a long time. If it does last, the material may also stain as it ages.
When should you choose bonding?
Composite resin bonding is a good choice for a quick and attractive tooth restoration that may be replaced later by something more permanent, such as porcelain veneers.
Contact us today to schedule an appointment to discuss your questions about bonding. You can also learn more by reading the Dear Doctor magazine article "Repairing Chipped Teeth."