Posts for: June, 2013
By Steven D. Dunning DDS
June 26, 2013
Statistically speaking, Americans can expect to enjoy a longer life today than at any time in the past. A recent U.S. government interagency study indicated that our oldest citizens are also generally getting healthier and doing better economically. Yet, along with an increased lifespan comes the possibility that at some future time, you or a loved one may undergo treatment for cancer.
There's good news here too: According to the National Cancer Institute, a branch of the National Institutes of Health, both the rate of cancer incidence and the death rate from the disease have been steadily declining. It's true that cancer treatments may cause a variety of oral health problems. But did you know that there are some measures you can take to minimize the discomfort and possible complications from these lifesaving therapies?
Chemotherapy and radiation, two common treatments, work by attacking cancerous cells. However, they can affect normal cells too — including the cells lining the mouth, and the salivary glands. This sometimes results in mouth sores, a dry mouth, and an increased risk of developing dental diseases like tooth decay.
What should you do if you or someone you love needs cancer treatments? The best outcomes can be obtained by a dose of prevention when possible, and by taking a team approach to the treatment.
Oral side effects may be worse if the mouth isn't healthy prior to cancer treatment. So, if there's time, have necessary dental procedures done before treatment begins. During and after cancer therapy, dental surgery should be limited if possible. The first step is to get a complete dental examination, and to develop a treatment plan. It's vitally important to coordinate any dental treatments with an oncologist (cancer specialist).
There are also things a patient can do to help control unpleasant oral side effects. Removing the bacteria that cause tooth decay is more essential now than ever. In addition to thorough brushing, an antibacterial rinse or fluoride gel may be prescribed. To combat the symptoms of dry mouth, it's important to drink plenty of fluids. Chewing gum with Xylitol, or using a mouth rinse or a prescription medication may also be recommended.
It's essential for those having cancer treatment to understand and follow the recommendations of their dentist and doctor. These include taking steps to reduce the chance of complications, and recognizing the warning signs that may indicate a problem.
If you would like more information about cancer treatment and oral health, please contact us or schedule an appointment to discuss your treatment options. You can learn more in the Dear Doctor magazine article "Oral Health During Cancer Treatment."
By Steven D. Dunning DDS
June 13, 2013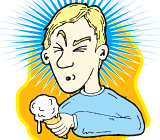 Tooth sensitivity is an all too common problem among dental patients. If eating certain foods or simply touching a tooth causes you pain, you should know why this may be happening and what can be done about it.
Tooth sensitivity occurs in most cases because the portion of the tooth known as the dentin has been exposed. The dentin contains nerve fibers that inform and alert the brain about the current environment of the tooth (temperature or pressure changes). The enamel protects the tooth from environmental extremes.
Receding gums are the most common cause for dentin exposure — the enamel only protects the crown of the tooth and is not present on the root of the tooth. Acids in certain foods can then begin to erode the dentin around the roots and expose nerves. Sweet items (mainly sugar) and temperature shifts irritate the nerve endings, causing pain.
While receding gums (most commonly caused by brushing too hard and too often) may be the most common cause for sensitivity, it isn't the only one — tooth decay may also lead to it. Untreated, decay works its way into the tooth pulp and irritates the nerves. Treating the decay and filling the tooth may also cause sensitivity unless the dentist places a lining designed to minimize it temporarily while the area heals.
Alleviating pain from sensitivity begins with how you brush your teeth. Remember: the goal of brushing is to remove plaque, which does not require vigorous action. Brush gently with a soft-bristled brush and not too often. We might even recommend not brushing a very sensitive tooth for a few days to give the tooth a rest. You should also brush with a toothpaste containing fluoride, which will help strengthen the tooth surface against the effects of acids and sweets.
During an office visit, we can also apply a fluoride varnish or use certain filling materials that will serve as a barrier for the sensitive area. For cases where decay has irreversibly damaged the tooth pulp, a root canal may be the best treatment.
Tooth sensitivity isn't necessarily something you have to live with. There are treatments that can relieve or lessen the pain.
If you would like more information on tooth sensitivity and what can be done about it, please contact us or schedule an appointment for a consultation. You can also learn more about this topic by reading the Dear Doctor magazine article "Sensitive Teeth."