Posts for: May, 2013
By Steven D. Dunning DDS
May 30, 2013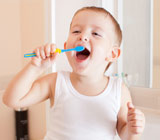 Caring for a young child can be overwhelming at times. Sometimes, it may feel like you can't read enough books to learn the correct way to do everything from potty training to feeding. It's also important to teach your child healthcare habits during these crucial years, so that they continue these habits for a lifetime!
Here are a few simple ways you can help your child to institute lifetime oral care habits.
DO: Encourage your Child to Brush Every Day with Fluoride Toothpaste. Fluoride will help make your child's teeth more resistant to tooth decay. You should use a thin smear of fluoride toothpaste for children under age two and a pea-sized amount for older children. At age two, you can also begin empowering your child to brush, but make sure that you supervise and finish the job. Your child will probably need your help until around the age of six.
DON'T: Share your Germs. Did you know that children are not born with the bacteria that cause tooth decay? In fact, the bacteria are transmitted to them from adults! You should never share a cup or spoon with your child. Also, next time you kiss your child, kiss him or her on the cheeks instead of the lips. Believe it or not, you can transmit harmful bacteria through this quick little kiss.
DO: Limit your Child's Sugar Intake. When your child consumes sugar, the bacteria use the sugar to produce acids that dissolve tooth enamel, eventually leading to tooth decay. Saliva can neutralize those acids, but it needs enough time, 30 to 60 minutes, to work its magic. That is why it is important to limit sugar intake between meals.
DON'T: Give Your Child a Bottle at Night. Juice, milk and even breast milk contain sugars that promote tooth decay, in particular during sleep, when less saliva is being produced. So, though it may be tempting, do not let your child go to bed with a bottle.
DO: Take your Child to the Dentist Early. The American Academy of Pediatric Dentistry recommends that all children have their first dental visit by the age of one. Your toddler will benefit from regular dental visits, because we will monitor tooth decay, correct brushing techniques and also, most importantly, ensure that he or she is comfortable in the dental chair.
DON'T: Allow your Child to Suck His or Her Thumb Past Age Three. Thumb sucking for comfort is a very normal behavior for babies and toddlers. However, if your child constantly sucks his or her thumb past the age of three, it can affect teeth alignment and jaw development.
If you would like more information about oral care for your child, please contact us or schedule an appointment for a consultation. You can also learn more by reading the Dear Doctor magazine article "Dentistry and Oral Health for Children."
By Steven D. Dunning DDS
May 15, 2013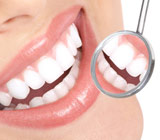 Most dental treatment has a cosmetic aspect to it since in the act of "restoring" teeth they are made to look better. The word "cosmetic" comes from roots meaning, "to adorn, dress and embellish." Here are some terms and cosmetic dental techniques that could change your smile.
The best and easiest way to remove stains on your teeth? Make an appointment to see a dental hygienist to remove unwanted stains from coffee, tea, red wine, that can discolor the outer surfaces of your teeth. Your teeth will look better and be healthier as a result.
Dental office or home whitening? Dull, dingy and discolored teeth can be whitened with over-the-counter products at home, or professionally in our office. If you use the home method, be sure to follow the manufacturers' instructions carefully to make sure you don't overdo it. In our office we can use stronger bleaching solutions with special precautions to protect your gums and other tissues and achieve whiter teeth more quickly.
Cosmetic change for back teeth? Tooth-colored composite resin filling materials are a relatively inexpensive way to replace tooth structure that has been damaged (by decay or otherwise) with non-metallic materials that bond to your natural teeth, match their color and make them stronger. (Sometimes metal restorations, like gold are advised for people who grind their teeth.)
Cosmetic change for front teeth? Tooth-colored composite resin restorative filling materials — can be bonded directly to natural tooth structure becoming "one" with it. Used to replace tooth structure damaged by decay or injury such as chipped teeth, they are especially useful for front teeth in the smile zone. And they actually strengthen the teeth as well as providing highly cosmetic tooth restorations. In artistic hands nobody will know your teeth have been changed, except you and your dentist.
Porcelain Veneers are thin layers of glass-like ceramic material that replaces the original tooth enamel. Veneering a tooth often involves some enamel reshaping or removal to accommodate the veneer. Veneers are bonded to the underlying tooth, but can be made brighter and whiter than your own enamel to cosmetically enhance your smile.
Porcelain Crowns are similar to veneers in their cosmetic appearance but they cover the entire surface of a tooth, replacing tooth structure that has been damaged, lost or has become very discolored.
Clear Aligners are a newer technique used in orthodontics (tooth movement) to move teeth into better position to enhance cosmetic change and improve biting function. A series of clear plastic trays is used to gradually move teeth to more attractive and functional positions.
Dental Implants replace the roots of missing teeth. They are placed into the jawbone and become fused with it. Once implants have integrated with the bone, crowns are attached that look, function and feel just like stand alone natural teeth.
Contact us today to schedule an appointment or to discuss your questions about cosmetic dentistry. You can also learn more by reading the Dear Doctor magazine article "Cosmetic Dentistry: A time for change."